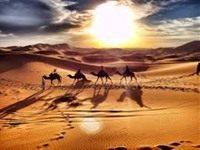 Séjour de 7 jours au Maroc
Your transfers on arrival and return,
4 nights at the Riad BAMAGA with full breakfasts, cake, jams, pancakes and yoghurt made by Aicha and Nadia, fresh orange juice on the terrace or in the patio. You can enjoy all your time in the Riad to visit Marrakech.
1 day excursion in the High Atlas with the crossing of the Ourika Valley. And if you wish, you can discover accompanied by a guide Setti Fatma and the 7 stunning waterfalls.
1 traditional Moroccan meal at the Riad (excluding drinks), the evening you will like, served on the terrace or the patio. The kitchen is made by Aïcha and Nadia. All products are bought the same day.