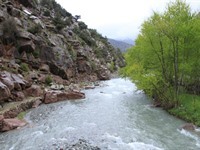 Ourika Valley
30km from Marrakech, this valley engulfs in the High Atlas and lets us discover a small river lined with "beaches" of greenery. This smiling valley is a walk and a place of rest long enjoyed by the inhabitants of Marrakech. Initially ample and giving a large place to the orchards and vegetable crops, the valley is packed after Arhbalou.
The peaks of the high summits are inscribed between reddish slopes where the villages and their cultivated terraces boldly cling. The limpid and abundant water of the Ourika running on the rocks, slips between small meadows whose grass remains green even in summer. Lying on carpets, 7 km further, you arrive at Setti-Fatma which remains the most attractive place of this Valley.
Travel by minibus. Rate 20 € per person.